1.     Do some physical activity
Learn a few basic exercises that you can do at home to increase mobility and mood.
Click here for a 10-minute home workout for seniors.
2.     Be creative
You could invest some of this time into a hobby or pick up a new one. There are lots of videos, apps and podcasts, that you can access for free, which could be helpful.
Click here to find a list of things to do at home during self-isolation.
3.     Get your nutrients and drink plenty of water
It's important to ensure that you continue to eat a well-balanced diet and drink enough water to feel well.
Click here for some recipe ideas to make the most of ingredients you already have at home.
4.     Use medications as normal
Although your daily routine may have changed, remember to stick to your routine when it comes to taking medications. You might find it helpful to set alarms, reminding you of when to take them.
Make sure you have access to the medications you need. Pharmacies are currently taking online orders for prescriptions and delivering them to your door so you do not have to leave the house.
5.     Keep a routine
Maintaining a good sleep schedule will help you to sleep well at night and have energy during the day.
6.     Be prepared
Have a plan set for if you require practical help, such as calling a taxi, requesting medical care and having food delivered.
Most grocery stores offer delivery services so that you can shop from the comfort of your own home. Click on their respective names to direct you to their websites.
7.     Keep in regular contact with loved ones
You may not be able to visit family and friends but it's important to stay in contact with them.
Video conferencing is a great way to connect with loved ones, Facetime and Zoom are some of the most popular apps.
Click here for a video on how to use Facetime.
8.     Find a healthy balance in relation to media coverage
Being exposed to large amounts of negative information may increase feelings of anxiety. While it's important to stay informed, you may find it helpful to limit your media.
9.     Access good quality information
It's important to get accurate information from credible sources, some of which are listed below.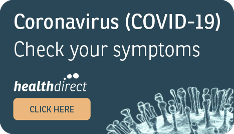 10.  Keep a positive outlook
The Australian Government is constantly monitoring the situation and ensuring appropriate measures are implemented to flatten the curve.