Our most recent rapid survey into the experiences of our older population ran in August 2020 and received 103 responses. While the sentiments expressed a growing return to normalcy for some, there is still some way to go.
Approximately 1 in 3 people cancelled at least one support service earlier in the year, and have yet to resume their service. Physiotherapy, gyms and home support were the main services cancelled, as individuals scaled back on both costs and physical contact.
Compared to earlier in the year, more people (76.3%) are feeling at least somewhat confident leaving their homes. However, this level of confidence declines with increasing age, with those still staying inside being almost exclusively over 70 years old.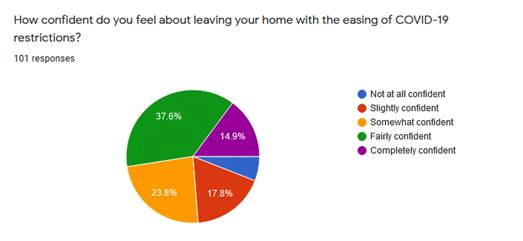 Through our work as the peak body for vulnerable older Western Australians, leading a COVID seniors taskforce and our collaboration with our Local and State Government, we will continue to check in with our seniors online, and face-to-face when we can.
Stay connected and stay safe.