We have all been waiting for the roll-out of the COVID-9 vaccination program and it's really pleasing to report that our most vulnerable cohorts, residents and staff of aged care and disability care homes are among the first recipients of the vaccine which commenced on 22 February 2021, along with other frontline and quarantine workers. The vaccination program will be rolled out in three phases and is scheduled to be completed by the end of the year. Healthdirect Australia have released a new COVID-19 vaccine eligibility checker tool online. If you require more information on the phases of the rollout, view the Department of Health brief or visit Healthy WA for an update: https://www.healthywa.wa.gov.au/COVID19vaccine.
As background to the Royal commission into Aged Care, there have been 18 major public reports and inquiries related to publicly funded aged care in Australia since 1997. The final report of the most recent Royal Commission into Aged Care Quality and Safety, titled Care, Dignity and Respect, was released on 1st March 2021. The Royal Commission was established in October 2018 and since then the commissioners have considered an enormous amount of evidence, including 10,574 submissions, 6,800 phone calls to the information line and 641 witnesses at hearings. The final report is more than 2,000 pages in length and outlines 148 recommendations designed to; "assist older people to live an active, self-determined and meaningful life in a safe and caring environment that allows for dignified living in old age." The federal government's initial response to the report is a pledge of $452 million to address the five pillars of Home Care, Quality and Safety, Services and Sustainability, Workforce and Governance. The next step is for the Government to meet a 31 May 2021 deadline set by the Commissioners to report to Parliament on its response to the 148 recommendations.
The Executive Summary of the Royal Commission into Aged Care Quality and Safety final report is 115 pages long. You can view it here: https://agedcare.royalcommission.gov.au/sites/default/files/2021-03/final-report-executive-summary.pdf
As you are all aware, many groups and individuals have already expressed their initial views about the Report, including COTA Australia. COTA Australia is calling for prioritisation of a number of reforms including access to home care without waiting, stronger regulation, star rating system for staffing, consumer control and rights and more transparency. Commenting on the release of the report, COTA Australia CEO Ian Yates noted; "The evidence is overwhelming: we need a major transformation of the system, and older Australians shouldn't wait a day longer than needed to be guaranteed choice, dignity and quality in aged care. The ball is now in the government's court, and there's no excuse for inaction."
COTA will keep you up to date with the outcomes of the recommendations of the Royal Commission.
As the peak body for seniors in Western Australia COTA (WA) works closely with the broader seniors sector including state and local government, service and support organisations and other peaks to identify and address some of the key and emerging issues for older Western Australians. With approximately one third of our state being over the age of 50 (833,000 people), it is imperative that we engage widely with many sectors and industries to discuss the impact – meaning both the challenges and the opportunities – of an ageing population.
For this reason, COTA (WA) has established the Positive Ageing Alliance which was launched on 3 March 2021 at Government House by our Patron, The Honourable Kim Beazley AC, Governor of Western Australia. The Alliance is made up of 25 leaders in Western Australia who have been identified as influential and proactive, and/or who represent community minded organisations across a broad spectrum of industries including sports, the arts, academia, law, aged care and community services, journalism and media, entertainment, telecommunications, local government, housing, accounting and consultancy.
This first phase of this initiative will bring together the Alliance members through a series of forums to discuss four key issues – elder abuse, the digital divide, vulnerable cohorts and mature age employment. The Alliance is being chaired by COTA (WA) Board Director (and CEO of Australian Institute of Management WA), Professor Gary Martin. The purpose of the Positive Ageing Alliance is to raise awareness among the alliance members (and their networks) on the four topics, seek member's input on how these key issues impact their sector and discuss ideas or innovation that will have a positive impact on the community. I look forward to sharing more details about this important and exciting initiative in the coming months.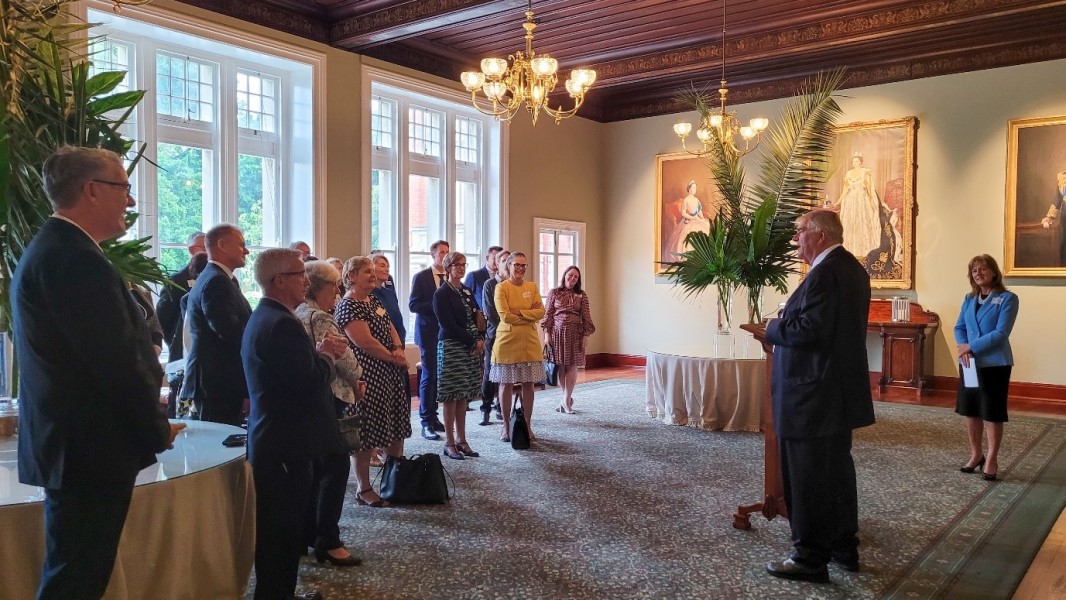 Our Mall Walkers are delighted to be back in action after the recent COVID-19 lockdown phase. To keep themselves active during this time, some of our mall walkers turned their skills to all kinds of innovative ideas, including researching and making face masks. You can read more about their efforts in this edition of the newsletter. With snap lockdowns and physical distancing putting many at risk of social isolation, we are examining a range of free and low-cost events available to help us stay connected to our communities.
As you are reading this, we will most likely know the result of the State election. COTA (WA) sits on the WA Electoral Commission Disability Reference Panel to provide comment and feedback on a range of existing electoral services or planned initiatives in respect of electors with a disability and/or incapacity. At this election seniors were able to choose an option to ensure they were able to cast their vote. The options included telephone, postal, in person tech assisted, mobile polling in hospital and aged care facilities – and this year early voting was encouraged for all voters. I trust you have utilised the voting method that best suits you and we would welcome your feedback about your voting experience through our info@cotawa.org.au or by speaking with one of the COTA (WA) team.
And of course, whatever the election result, we will have a new Minister for Seniors as Mick Murray stands down and transitions to voluntary retirement. Its timely then to thank the Minister for his service to seniors over many years and to acknowledge his support of COTA (WA). He has always been open and available and receptive to ideas and initiatives to improve the lives of seniors in WA.

Christine Allen, CEO