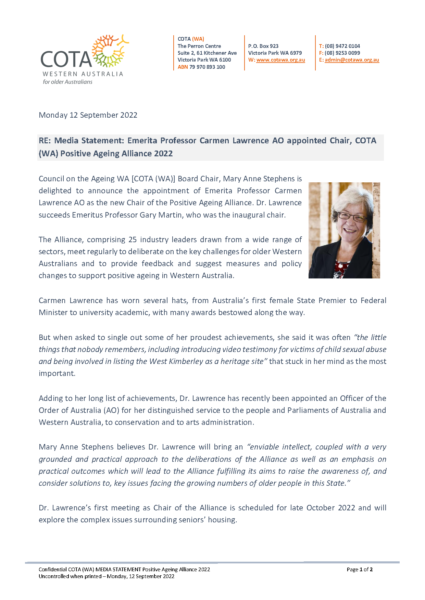 Media Statement: Emerita Professor Carmen Lawrence AO appointed Chair, COTA (WA) Positive Ageing Alliance 2022
Council on the Ageing WA [COTA (WA)] Board Chair, Mary Anne Stephens is delighted to announce the appointment of Emerita Professor Carmen Lawrence AO as the new Chair of the Positive Ageing Alliance. Dr. Lawrence succeeds Emeritus Professor Gary Martin, who was the inaugural chair.
The Alliance, comprising 25 industry leaders drawn from a wide range of sectors, meet regularly to deliberate on the key challenges for older Western Australians and to provide feedback and suggest measures and policy changes to support positive ageing in Western Australia.
Carmen Lawrence has worn several hats, from Australia's first female State Premier to Federal Minister to university academic, with many awards bestowed along the way.
But when asked to single out some of her proudest achievements, she said it was often "the little things that nobody remembers, including introducing video testimony for victims of child sexual abuse and being involved in listing the West Kimberley as a heritage site" that stuck in her mind as the most important.
Adding to her long list of achievements, Dr. Lawrence has recently been appointed an Officer of the Order of Australia (AO) for her distinguished service to the people and Parliaments of Australia and Western Australia, to conservation and to arts administration.
Mary Anne Stephens believes Dr. Lawrence will bring an "enviable intellect, coupled with a very grounded and practical approach to the deliberations of the Alliance as well as an emphasis on practical outcomes which will lead to the Alliance fulfilling its aims to raise the awareness of, and consider solutions to, key issues facing the growing numbers of older people in this State."
Dr. Lawrence's first meeting as Chair of the Alliance is scheduled for late October 2022 and will explore the complex issues surrounding seniors' housing.
The full Media Statement can be found on the COTA (WA) website: Media Statement PAA New Chair Emerita Professor Carmen Lawrence AO  
Aims of the COTA (WA) Positive Ageing Alliance
The primary purpose of the Positive Ageing Alliance (PAA) is to explore some of the key challenges facing older Western Australians, to seek feedback on how well each particular issue is understood by the broader community sectors, and to suggest specific measures and policy changes to rectify the identified short-comings.
In undertaking this role, the PAA attempts to promulgate messages about positive ageing with a view to changing attitudes to ageing and older people by focusing on the positive attributes of ageing rather than the deficit models often portrayed in the mainstream media.
The major outcome of this approach is intended to raise community awareness of the contribution older people can, and do, make to society.
For More Information
Christine Allen, CEO Council on the Ageing (WA) Inc.
COTA (WA)
T: 08 9472 0104
Posted in Information