The Council on the Ageing (WA) provides FREE AND INDEPENDENT Information on Navigating the Aged Care System.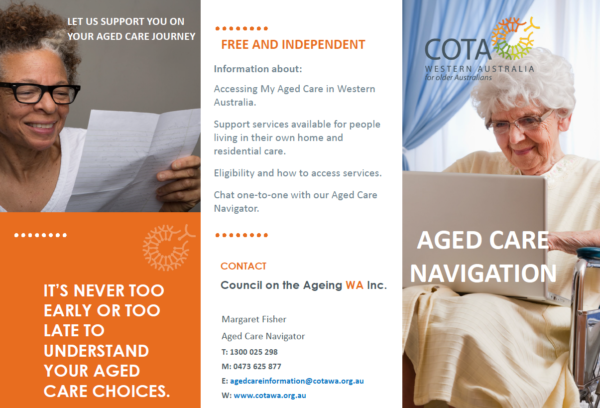 COTA (WA) with a number of other organisations across Australia is participating in a series of trials to find out the best ways to help older Australians, their families and friends understand how to access aged care services, including:
An overview of the aged care system in Australia.
Eligibility and how to access support services.
Support services available for people living in their own home.
Our free and independent services are available for all people who need help accessing aged care support.
Contact our Aged Care Navigator, based at the COTA (WA) offices, The Perron Centre, 61 Kitchener Avenue, Victoria Park WA 6100. Staff may be working from home but are still available to assist by either email or phone. Please leave your phone number and/or email address and the COTA (WA) aged care navigator will contact you.
Please contact us by phone on (08) 9472 0104 or 1300 025 298 or email us at agedcareinformation@cotawa.org.au