To view the video of the 2022 WA Seniors Awards Presentation: Link: Video COTA (WA) Seniors Awards Presentation 2022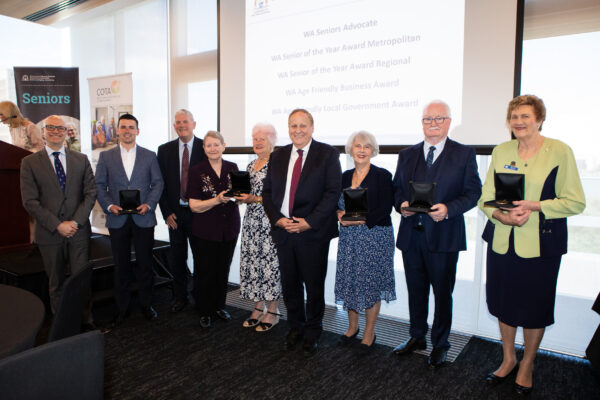 COTA (WA) celebrated the recipients of the 2022 WA Seniors Awards on Wednesday 16 November 2022 at ANZAC House.
The Hon. Don Punch MLA Disability Services; Small Business; Fisheries; Seniors and Ageing presented the awards to recipients.
Congratulations to the Recipients of the 2022 WA Seniors Awards
JUDY JOUKADOR: WA SENIORS ADVOCATE OF THE YEAR
DELYSE WARD: WA SENIOR OF THE YEAR – METROPOLITAN
BERNIE DALY: WA SENIOR OF THE YEAR – REGIONAL
UNICARE HEALTH: WA AGE FRIENDLY BUSINESS AWARD
THE CITY OF COCKBURN: WA AGE FRIENDLY LOCAL GOVERNMENT AWARD
JUDY JOUKADOR: WA SENIORS ADVOCATE OF THE YEAR
Award accepted by: Judy Joukador
Judy was nominated by the Northern Su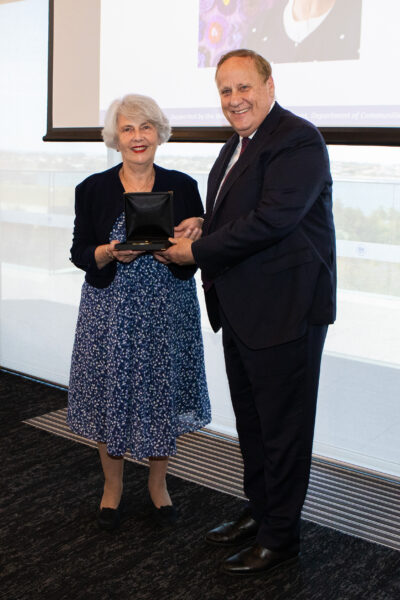 burbs Community Legal Centre
Judy has been awarded the WA Seniors Advocate for her role as a Volunteer Peer Educator since 2017 and over the last five years, has been one of the driving forces behind the Purple Road, an initiative to create flowers that represent the older people's journey of ageing. She has delivered Peer Education Sessions to over 500 attendees in the last 12 months alone, presenting to a wide range of groups and raising awareness of elder abuse. She is passionate about reducing social isolation by sharing her own experiences – so other people know they are not alone – and she is strong advocate for tackling ageist attitudes and challenging behaviours of discrimination. Judy had a professional career in education, as the head of English at various private schools across Perth.
One of the testimonial reads; "Most of us live quite privileged lives and are sometimes unaware of what takes place in the wider community. However, your very informative and beautifully presented talk certainly opened our eyes to that reality and hopefully we will be able to spread the news a little further."
Judy, you advocate the message that older people have the right to be heard, be respected and are valuable contributors to the community.
DELYSE WARD: WA SENIOR OF THE YEAR – METROPOLITAN
Award accepted by: Delyse Ward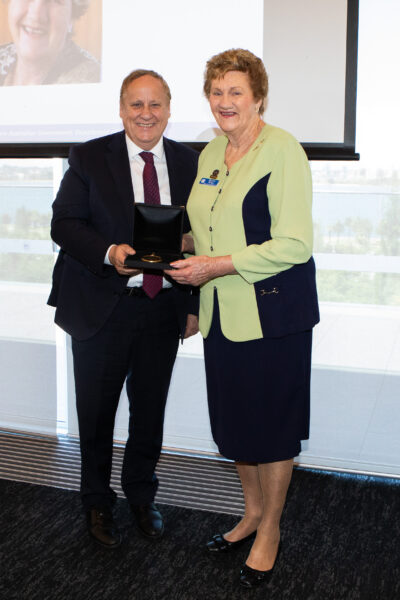 Delyse was nominated by the Country Women's Association Koorunga Branch
Delyse Ward has been awarded WA Senior of the Year, Metropolitan for her outstanding work as a community coordinator for the Country Women's Association of Western Australia.
In her fourth year in this volunteer role, she has travelled huge distances weekly to deliver hundreds of items to those in need, working alongside a small team of CWA members to coordinate the collection and distribution of goods for placement with families, organisations and institutions. Having been a CWA member for 59 years, her knowledge, vitality, dedication and personal thank you notes inspire so many CWA members to assist with all projects. She currently liaises with 8 hospitals, Ronald McDonald House, refuges, 17 school chaplains, aged care facilities, dementia care, indigenous communities and organisations working with the homeless and emergency situations.
During COVID-19, 900 laundry bags and scrub caps for nurses were made and delivered all over WA, and prior to Christmas, she personally packed and delivered large numbers of 'share the dignity bags' to nursing homes and hospitals. These bags were for ladies, teenagers and mums with bubs. Teaming up with Wanslea and other organisations, 101 Christmas parcels for grandcarers were delivered. When she was unable to personally deliver bags of items during covid-19, Delyse filled her car boot, drove to the venue and stayed in her car, while the receivers took the bags. Delyse is always on the lookout for new projects and challenges and sees it as a joy to be able to help.
BERNIE DALY: WA SENIOR OF THE YEAR – REGIONAL
Award accepted by: Bernie Daly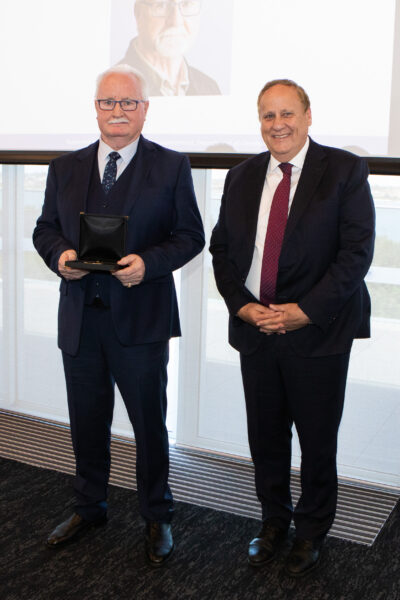 Bernie was nominated by The Shire of Cunderdin
Bernie Daly has been awarded WA Senior of the Year Regional, for his involvement in many community groups like the Cunderdin Men's Shed, CMT Seniors Committee, Cunderdin Community Resource Centre Committee and the Shire of Cunderdin Council Committee.
In 2012, Bernie moved to Cunderdin to retire and soon after joined the Cunderdin Men's Shed. After initially taking on the role of Secretary, he is now the Men's Shed President and takes a very active role in organising get togethers, talks  and excursions for your local men's shed group. Bernie is also on the local CMT Seniors Committee, which is made up of senior citizens, local government representatives and volunteers who get together regularly to organise events and excursions for seniors from the Towns of Cunderdin, Meckering and Tammin.
During 2021, he also joined the Cunderdin Community Resource Centre Committee, becoming a spokesperson for the seniors in the town. For the past seven years he has served on the Shire of Cunderdin Council. During this time, he has been a member of the AAA Housing Project Team during the construction and delivery stage. The project was aimed at housing those in the elderly community wishing to downsize and be close to medical care. He represented seniors during this project to ensure that the housing project addressed all the needs of seniors. Bernie is also involved with the local Health Advisory Committee who recently obtained funding to print emergency health booklets for seniors.
UNICARE HEALTH: WA AGE FRIENDLY BUSINESS AWARD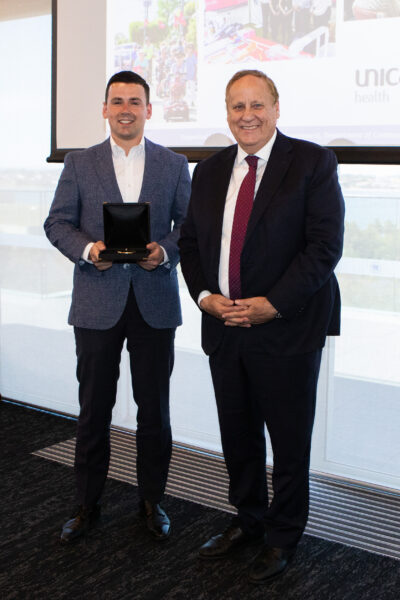 Award accepted by: Curtis Dartnall, Operations Manager Unicare Health
In 1985, Bill Dartnall started the River Import Co. using his life savings to import 10 mobility scooters from Canada. These were Australia's first electric mobility scooters. Bill sold these scooters from his family garage and delivered them to his customers in a trailer he borrowed from a friend. In 1990, River Abilities, a small mobility shop in Bentley was established. Bill finally retired and passed the business on to his sons. In 2013, River Abilities rebranded to Unicare Health.
Today, Unicare Health is WA's largest supplier of hospital and aged care equipment. Led by Bill's oldest son Greg Dartnall, the team at Unicare Health still share the same passion that Bill did when he founded the business, the passion for meeting customer needs and delivering the good old fashioned family friendly service.
In July 2019, Unicare Health's Safe Seniors Campaign was launched to raise awareness of assistive technology that helps seniors live safely and independently at home. The Safe Seniors Campaign is funded by Unicare Health's give back efforts, using proceeds from the sale of their assistive technology equipment. This initiative is aligned with Unicare Health's more than care values, as well as the company's reputation as a socially responsible business. The biggest success of Unicare Health's #safeseniors Campaign is evidenced by the increased number of senior groups, community aged care providers and local governments promoting these activities to encourage safe and positive ageing in the community. Unicare Health's Safe Seniors Campaign is delivered across Western Australia through events and activities as well as talks and presentations.
THE CITY OF COCKBURN: WA AGE FRIENDLY LOCAL GOVERNMENT AWARD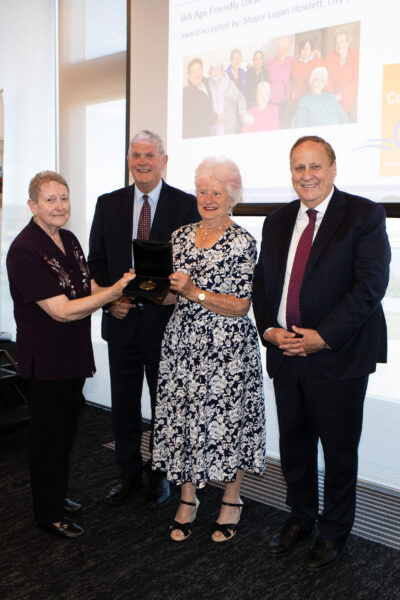 Award accepted by: Mayor Logan Howlett, City of Cockburn
The City of Cockburn has taken a proactive approach to ageing well in the community and its commitment to its senior population over the last fifteen years has been extraordinary, including: The establishment of the Senior's Centre and the Cockburn Community Men's Shed. They are a member of the World Health Organisation's Global Network for Age-Friendly Cities and Communities. The City also hosts social clubs for seniors living with dementia at Cockburn Care and Kwobarup Aboriginal Club. Other initiatives such as the Seniors Security Subsidy Scheme and options allowing pensioners to defer or claim a rebate on their rates have also helped local seniors to be able to age in place.
The City is especially proud of its Seniors Centre, which provides services to over 1,000 people. The impact of the Centre became especially clear during the COVID-19 lockdowns when staff noticed that it was common for members not to have significant social connections outside of the Centre, contributing to a sense of social isolation and a poorer sense of wellbeing for a significant portion of Cockburn's senior population.
The Senior Volunteers piloted a new group called the Friendship Group whose goal is to meet weekly to form long-lasting and mutually beneficial connections and friendships. The group has targeted those who may otherwise face barriers in forming social connections, including those with mental illnesses, disabilities and from CaLD backgrounds. While the Friendship Group is one of Cockburn's smaller initiatives for its older population, it is a symbol of the City's commitment to the welfare of its ageing population.
Supported by the Western Australian Government, Department of Communities

For more information contact
Dana Moore, Executive Officer Council on the Ageing (WA) Inc.
COTA (WA)
T: 08 9472 0104
Posted in Information