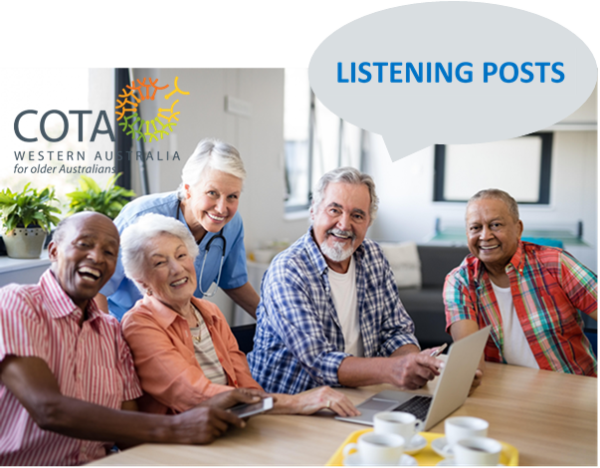 Dear Senior Western Australians
COTA (WA) is keen to involve interested older Western Australians in sharing their opinions, ideas and experiences on matters of importance to them. This will help us to develop initiatives which reflect the real concerns of the people we represent. It will also help us a great deal in representing you more effectively in our dealings with government and non-government organisations.
What COTA (WA) is Seeking
To enable a broad range of people to contribute, we are seeking a brief Expressions of Interest from people who would like to join a discussion group of about ten (10) people, each of which will focus on a specific topic. Within these broad areas, each group will explore the issues which are of most concern to older people. We are especially keen to involve people who have direct experience in their chosen interest area.
The topics include:
Housing (30 September 2022) Closed
Cost of Living (March 2023)
Diversity (April 2023)
Mature Age Employment (May 2023)
The Digital Divide (June 2023)
How Will These Groups Function?
The sessions are free and the small groups will meet at the COTA (WA) office at 61 Kitchener Avenue Victoria Park WA 6100 for two (2) hours from 10.30am to 12.30pm. Morning tea will be provided.
A facilitator will guide the informal discussion in order to obtain as much information as possible about your real concerns. Depending on the topic, and the wishes of the group there may be another meeting arranged as a follow-up if people feel the need to spend more time in their explorations.
How will the Information from the Groups be used?
The information from the Listening Posts will be used by COTA (WA) in various ways and in different arenas, to enrich our advocacy for you, our constituents. For example, we are regularly asked by government departments to inform them of the views of older people on specific issues. We are also asked to join government and non-government working parties and committees to provide an older people's perspective on particular policies and initiatives. Another key way in which we support older people in WA is through the development of a series of Guides on matters of importance to you, and these discussion groups will help enormously in helping us to determine exactly what information and resources you would find most helpful in developing future support materials.
Places are Limited
To enable us to allocate places, please nominate early.
Next Steps
If you are interested in participating in one of these groups, all you need to do at this stage is to send an email to dana@cotawa.org.au providing the following information:
Name:
Contact Number:
Email:
Nominate which of the following issues are of interest to you. You can pick more than one.
Housing (30 September 2022) Closed
Cost of Living (28 October 2022)
Diversity (18 November 2022)
Mature Age Employment (10 March 2023)
The Digital Divide (3 February 2023 + 10 February 2023)
Please tell us why you would like to contribute to the Listening Post Sessions.
COTA (WA) will contact you regarding the next steps, relevant to the session/s of your choice.
If you have any questions or queries, please call Dana on 08 9472 0104 or via email: dana@cotawa.org.au
Posted in Information