At COTA (WA), we are honored by the stories shared with us of the lives and experiences that stretch back across generations. For this edition of COTA Connections, we welcomed Beryl (née Keen), and her family to tell us about in her life and her experiences during a past health pandemic, in her own words.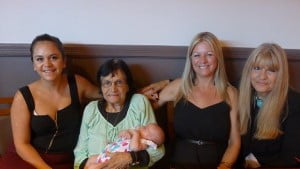 My name is Beryl Dixon (née Keen) and I am nearing my 94th birthday this coming November, and I am a Menang Goreng Wardjari woman of the Noongar Nation, Great Southern region, Western Australia. I have been around for a while now and seen a fair bit in my life including the ever-changing landscape of our lands and the community that makes up the collective society, we all live in.
Being the age I am, I have lived through many changes including various health crisis that have impacted on my people and Aboriginal people in general, as well, that have also affected the whole community with devastating results – but I never thought that I would live to see another such health pandemic that is testing the resolve of all people and cultures both in Australia and around the world.
I, as a young child, experienced firsthand a health pandemic, which also included being isolated from my family and community, as I had contracted diphtheria which killed quite a few people back in the 1930's and where several of my school chums died of the disease.
It was a very scary time for me and my parents, and though I survived the illness, the experience never really leaves you and with the situation we all find ourselves in now with the Coronavirus, it falls to us all to work together in support of each other, and the wonderful people who are at the frontline caring for everyone.
The photo in this article is of me when my first great-great grandchild was born and though she is now nearing her 5th birthday, I was very happy to still be around to be in this photo with my daughter, granddaughter, and great grand daughter and I hope that as little Alirah grows to adulthood, she too will be a strong Noongar woman and survivor like me, as I am very proud of my big family and as her great great-great grandmother.
Posted in Information