Last week, telephones started ringing at Umbrella Multicultural Community Care Services Inc.
They were not the usual calls about aged care services or when the gardener will come next.
They were calls about the war in Ukraine.
Umbrella was established in 2000 to provide aged care services to older members of culturally and linguistically diverse communities. Initially, they were established by the WA Association of Polish Women Inc. and then after a couple of years; they became a very vibrant independent multicultural aged care organisation. In the last 22 years, they have built a strong connection with communities that trust their services and their people.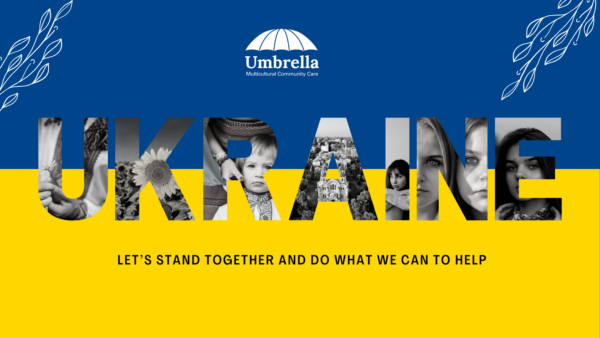 So, when the first calls came through to help Ukraine, they knew they had to respond.
Umbrella Inc has a close connection and contacts with Poland and many other Eastern European communities. Umbrella Inc has chosen Ocalenie Foundation to send donations collected from our clients, staff and volunteers who wanted a secure and trusted means to send aid to Eastern Europe. They are also collecting donations from their very generous clients who attend their daily social support programs.
Why did Umbrella choose this organisation?
Poland has received over 1.3 million refugees in the last two weeks – despite the massive effort of the Polish people, they have been overwhelmed and are at a breaking point.
The Ocalenie Foundation is over 20 years old, voluntary-based and has been actively working with refugees from other conflicts for many years, so they have the experience that people need.
You can choose where the money is spent and the organisation has minimal administration costs
Umbrella Inc has also contacted WA local and state governments and expressed our desire to provide any support necessary to the communities if or when Ukrainians will arrive.
Umbrella stands by the Ukrainian community and other Eastern European communities in need.
If you wish to donate
If you need any support making donations, please do not hesitate to contact Umbrella Inc. You can make a direct donation to the Umbrella bank account, which they have specifically opened up for this cause (details provided below). Umbrella Inc is a registered charity and able to fundraise for this cause. If you need a receipt of your donation, please call Umbrella on 9275 4411 or email enquires@umbrellacommunitycare.com.au
Bank Details Direct Donation for Ukraine Crisis to Umbrella Multicultural Community Care
Account Name: Umbrella Multicultural
BSB: 016370
Account: 405 830 432
Posted in Information